In 2017, Wuxi Fuda Vulcanizer Manufacturing Co., Ltd. partnered with China Huanqiu Contracting & Engineering Co., Ltd. to supply all conveyor belt hot jointing machines for the umm wu'al phosphate project in Saudi Arabia, and provided twice on-site services according to client's requirements.
About umm wu'al phosphate project:
Ma'aden and JV partners Mosaic and SABIC are building a new phosphate plant in Wa'ad Al Shamal Industrial City. Other mineral and secondary production industries will be added at later dates. Once completed, the Umm Wu'al project will have a Capacity of 3 million MTPA of DAP/MAP and NPK fertilizers.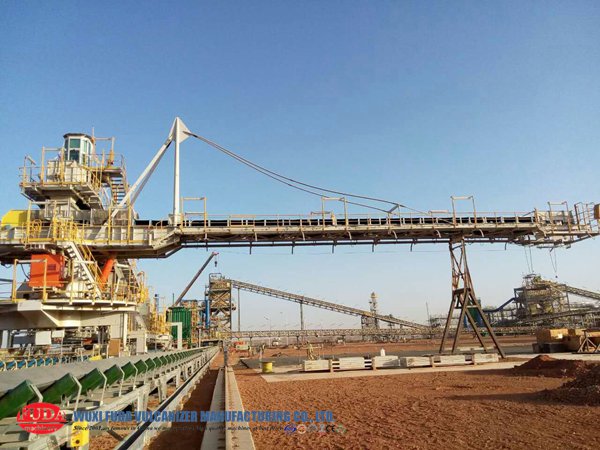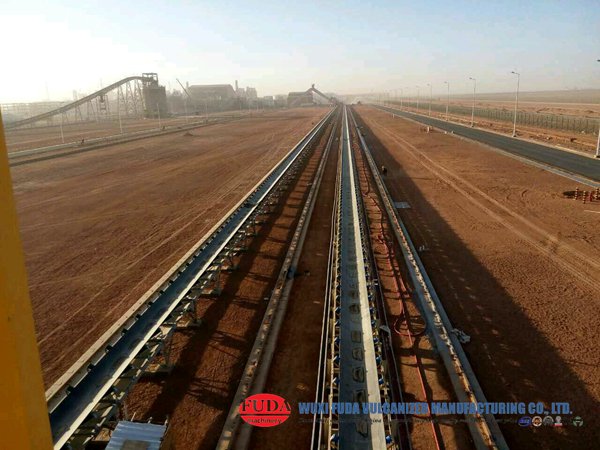 As a bid winner of this project, China Huanqiu actively seeks for the conveyor belt hot splicing machine factories in China according to the strict requirements of the end customers. MA'ADEN's stringent requirements for suppliers and conveyor belt hot splicing equipment include but are not limited to the following:
More than 15 years of production experience. For example, the establishdate of company.
Supplier should havestrong capabilities. For example, the registered capital is at least RMB 10 million.
Rich service experience and enough sample cases. For example, companies have participated in at least 10 mining projects.
The conveyor belt vulcanizing machines, control boxes, and companymust have national mining safety certifications.
The use of conveyor belt joint kit and control boxes must be adapted to the harsh environment of desert areas
After a comprehensive review of Wuxi Fuda by a group of experts appointed by China Huanqiu, Wuxi Fuda has won the opportunity for cooperation by its strong capabilities and good reputation. After receiving the order, the leaders of Wuxi Fuda held several meetings and asked all departments to work together to complete the production targets of dozens of conveyor belt hot vulcanizing machines ASAP on the premise of ensuring quality. And before the vulcanizing machines for conveyor belt are packaged, the machine must be inspected and tested. Finally, dozens of conveyor belt vulcanizer machines were completed in advance and received approval from customers for smooth shipment.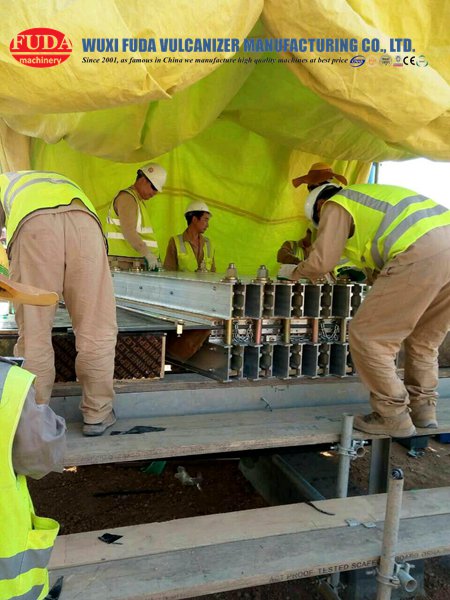 When the conveyor belt vulcanizing equipment were arrived at the Saudi project base, in order to save time and reduce unnecessary losses, the customer asked Wuxi Fuda to send experienced technicians to Saudi Arabia for on-site instruction, installation and use of conveyor belt vulcanizing press machines. As soon as receiving the request from the client, Wuxi Fuda selected several technicians from the company to send to Saudi Arabia at once. After more than 5 months of on-site service, these technicians successfully completed their mission and returned to China. But after two months time, the client once again sent an invitation. Because the conveyor belt has worn out and needs to be on-site vulcanizing repairing. Wuxi Fuda didn't hesitate to send out technical personnel again to cooperate and assist in ensuring the continuous use of the conveyor belt.
The umm wu'al phosphate project had been successfully completed with the cooperation of various companies in various countries. As a Chinese conveyor belt vulcanizing press manufacturer, Wuxi Fuda combines its many years' experience in the field of mining machinery, strong production capacity and reliable product quality, has done its best to contribute to this project. The portable conveyor belt vulcanizing machine produced by Wuxi Fuda is the pride of the Chinese people!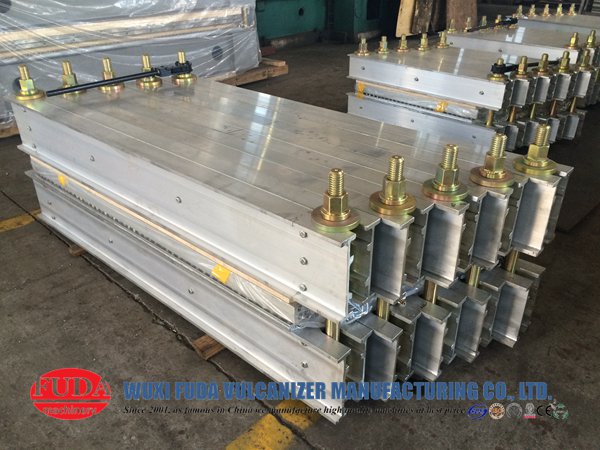 ———————————————
Conveyor belt joints and repair
Conveyor belt is the core of the belt conveyor machine, no matter how good the belt conveyor, if the conveyor belt connection is not good, and the conveyor belt damage, will seriously affect the customer experience. Wuxi Fuda Vulcanizer Manufacturing Co., Ltd. specializing in the production of conveyor joints and repair vulcanizing machine, with more than 20 years of production experience, the products throughout the country's major mining companies and overseas. And get the praise from all the clients.
For conveyor belt joints and repair equipment, please find Wuxi Fuda Vulcanizer Manufacturing Co., Ltd.
WUXI FUDA VULCANIZER MANUFACTURING CO., LTD.
Since 2001, as professional we manufacture high quality machines at best price!
Address: Guangming industrial zone, Xibei town, Wuxi city, Jiangsu Province, China 214194
Mobile & WhatsApp: 86-15995216108      Skype: live:alex-fudamachine
Email: alexmachine@yeah.net & alex-fudamachine@hotmail.com
Website: www.conveyorbeltvulcanizer.com